The Top 3 Take-Aways I Discovered from Gifting Jimmy Barnes a Copy of My Book
https://www.youtube.com/watch?v=jkJlJBR1kNs
In October 2017, Jimmy Barnes graciously accepted the very first autographed copy of my book 'Hidden Secrets of Self Healing'.
It had been a long and challenging journey getting to this point. For me, writing the book was no easy task!
It was 2 weeks prior to my own Book Launch and #JimmyBarnes was touring Australia sharing Book Signing events.
On the morning Jimmy was due to be at Robina Town Centre on the Gold Coast, I sensed a gentle whisper in my ear. The whisper was reminding me that he was on the Coast that day and encouraging me to attend his book signing.
As I was getting ready that morning, I felt as though I was being gently taken by the hand and guided to organise a gift for Jimmy, from me – a copy of my own book PLUS an invitation to my Book Launch! Wow! That felt SO bold and presumptuous of me!
The feeling of fear, anxiousness and 'who do you think you are to even consider that he would wish to have a copy of your book' was washing in and around me.
I nervously packaged up his gift and headed to his Book Signing, something I had never, ever imagined I would do, EVER! Especially with my own book to offer to him as a gift!
I waited anxiously in line AND finally it was my turn to have a copy of 'Working Class Boy' signed!
My stomach was churning! I was feeling SO incredibly anxious!
As I approached him, he reached out, shook my hand and greeted me warmly – as he had done with everyone before me – then autographed his book for me!
After he kindly handed me a copy of his autographed book, I gently asked if he would be happy to accept a gift from my heart to his, and his response was an overwhelming 'YES!'
When I explained that my gift was a book I was launching in 2 weeks time he was very excited and asked what it was about and if I had signed it for him. When I replied 'No, I haven't signed it as yet', he asked me to autograph it for him, which I nervously and happily did.
He accepted my gift with incredible graciousness and said 'I'll come and line up for you one day!'
The top 3 Take-Aways I discovered from meeting Jimmy Barnes were:
Jimmy Barnes is incredibly humble AND he most certainly has an indescribable presence about him. Observing his manner as he generously took time to have a quick chat with each fan as he autographed their book was heart-warming. I could see the positive impact and power in his kindness having a ripple effect on those he was chatting with.
When you step outside your comfort zone, that's where you discover the magic! Lining up at a book signing for Jimmy Barnes was way, way, way outside my comfort zone! BUT it truly was an awesome and enlightening experience for me!
The ripple effect as I shared my story, travelled far and wide! The biggest take-away for me was that when I shared my story with others it brought smiles to faces I'd never seen smile in that way before (beaming from ear to ear) AND it brought tears of joy to the eyes of men and women alike.
It was only a few moments in time and yet the magic continues to flow!
What about you? Have you ever met Jimmy Barnes or another celebrity in person? I'd love you to share your experience with me?
On Tuesday 11th October, Jimmy Barnes received the first autographed copy of my book 'Hidden Secrets of Self Healing' – an incredibly humbling experience which I will remember for ever!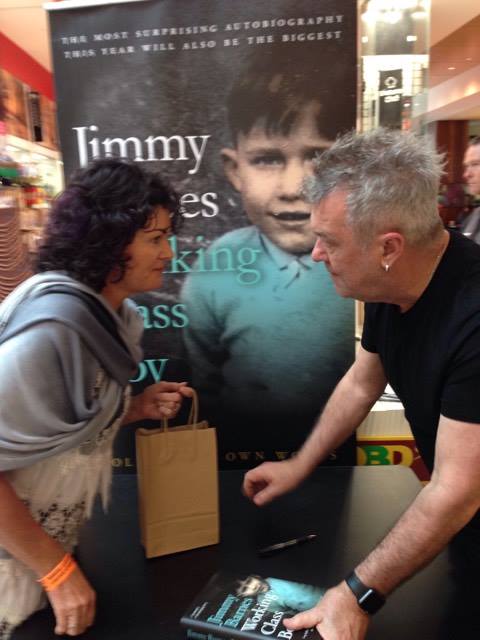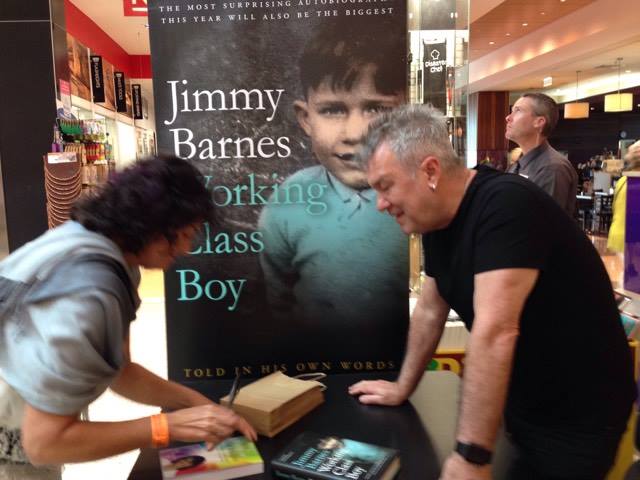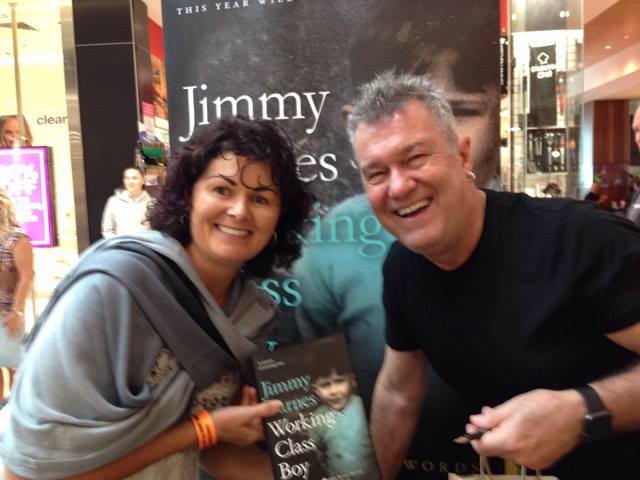 If you'd love to grab yourself a copy of my book 'Hidden Secrets of Self Healing' pop over to https://www.leoniemcnamara.com/my-book and secure your very own copy!
With love
Leonie